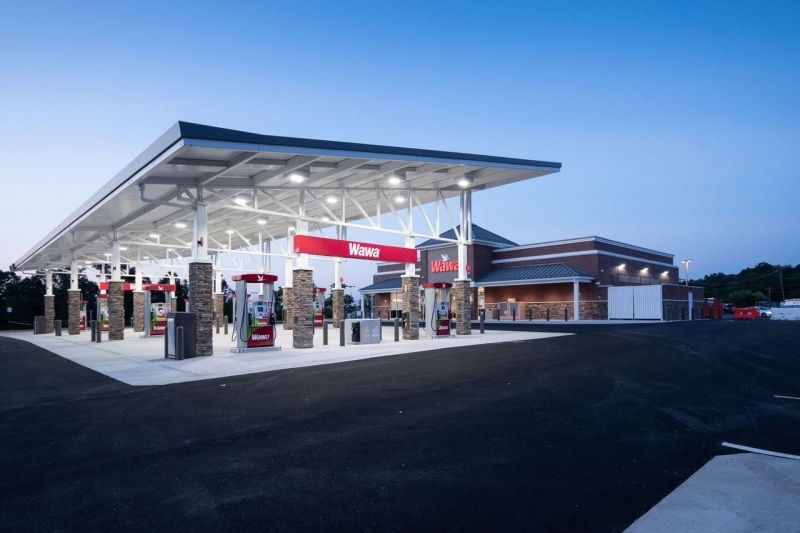 FRONTIER Companies Completes Wawa Convenience Store and Gas Stations in Manassas and Yorktown, Virginia
FRONTIER Companies announces the completion of the Wawa convenience store and gas station located at 10691 Davidson Place and Sudley Road in Manassas, Virginia. The site was the former home of Don Pablo's Mexican Kitchen restaurant which closed in 2018.
The experience-focused national development, construction and management firm purchased the 1.65-acre lot in November of 2018. The property is an outparcel to a Lowe's Home Improvement store. FRONTIER Building, the company's building division, began the demolition of the former restaurant in September 2019. The gas and convenience store consists of 7,860 square feet of air-conditioned space, eight fueling pumps, and 46 parking spaces.
FRONTIER also completed the new Wawa convenience store and gas station located at 2610 George Washington Memorial Highway, Yorktown, VA. The new 6,086 square foot outpost is located on a 3.74 acre lot in a high-traffic area across from the Walmart. It has 18 pumping stations and 48 parking spaces. FRONTIER Building was hired for the ground-up construction and build-out for the convenience store.
"FRONTIER has built other Wawa convenience stores in Virginia, Maryland and Florida and have several others under construction," said FRONTIER project manager Chris Barth. "We're proud to be a trusted builder for the well-recognized national brand."